Spinal Disk Bulge Physiotherapy For A Spinal Disc Rupture
Can a disc slip? The simple answer is no. It's a layman's term that is unfortunately very misleading to the general public."My disc has slipped out, can you put it back in" is not an uncommon conversation opener on the telephone. Of course, it's quite difficult then to get the caller to understand that this can't actually happen, which is why Spinal Disk Bulge Physiotherapy is key to recovery.
Let's look at the spine's anatomy and in particular the role of the disc.
The spine is made up of 7 cervical (neck) bones called vertebrae, 12 thoracics (middle) vertebrae and 5 lumbar (lower) vertebrae. The top 2 vertebrae in the neck are a little bit different, so putting those to one side, between each pair of the remaining vertebrae there is a disc, the purpose of which is to provide shock absorption and allow movement. The disc itself is attached strongly to the vertebrae and cannot slip out.
A disc is made up of a tough fibrous structure on the outside, layered in exactly the same way we make cross-ply tyres. On the inside, there is a soft, crab paste like moist material. As we age this tends to dry out. There are also end plates in contact with the vertebrae. The spinal disc is 70% to 90% water, so making sure you are well hydrated is very important to disc health.
There are two major types of damage to these discs. The first is when the disc is overloaded sufficiently to cause a protrusion, or bulge in the outer wall, as in the diagram above. This is similar to what you see on the side of a car tyre when it has hit a curb. Sometimes this is referred to as a slipped disc. It's not possible to just push the bulge back in, but specific exercises can help to relocate this and over time the disc may heal itself.
The second and more serious damage is when the overload has been sufficient to rupture the outer fibrous structure and force the inner material to squeeze out. This is called a herniated or ruptured disc.
What Are The Implications Of A Disc Bulge Or Herniated Disc?
A disc bulge will cause pain if it is central and compresses the central spinal column, or if it bulges to one side into the exiting nerves. In either case, if the compression is significant enough, it will cause pain and/or numbness and weakness and possibly loss of control in the limbs.
If the disc bulge is central it could cause problems down both sides of the body. If the bulge is on one side, it will only cause problems on that side.
If the disc has been ruptured or herniated, the same problems with compression of the central spinal column and exiting nerves can occur. In addition, if chemicals from the inside of the disc come into contact with the nerves, it can cause severe pain even without any compression of the nerves. In such cases, a course of anti-inflammatories will most likely be prescribed.
Can Spinal Disk Bulge Physiotherapy Treat A Disc Bulge or Herniated Disc?
In many cases, a bulging disc and a herniated disc will over time heal itself. The time required may depend on the severity of the problem and may take from weeks to months to resolve. Physiotherapy treatment can help reduce the pain much more quickly. The key is to get an accurate diagnosis through a physiotherapy assessment, possibly needing an X-ray or MRI. Treatment can include specific exercises to help reduce the disk bulge, Gunn IMS dry needling, electroacupuncture, laser, shockwave, core stability rehab and postural rehab. In severe cases, surgery may be needed.
If you have suffered a recent back injury or had a long-term problem then it's advisable to get your condition assessed and treated. We have extensive skills in treating spinal pain and clients travel from all over the UK and abroad to seek our help.
Call 01889 881488 now.
Growing Old, Stave Off Ill Health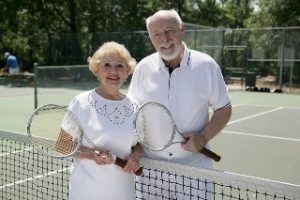 Part of life is growing older and we should all plan for that stage of our lives. The good news is that with correct lifestyle choices and planning, the later years can be just as much fun as any other part. The first and most important step in this process is aligning your beliefs with this reality.
What do I mean by this? Well if you believe that when you get older you won't be able to do much, will spend a lot of time sitting in a chair because moving around is too painful and you will need a cocktail of drugs to keep you going, then probably that will all come true for you. If on the other hand you believe it doesn't have to be that way and that you can still be active, healthy and enjoying life then probably that's how it will be for you. The reason for this is that the mind is immensely powerful in determining outcomes. And if you strongly believe something, your mind will subconsciously move you towards decisions that support that belief.
I once spoke to someone who said 'I'm 50 now and I need to slow down' and guess what, she visibly aged as all her thoughts supported that belief. On the other hand, I know people who are in their late 80's who go to the gym and swim three times a week, run to the shops and take no medication and never have. And they see no reason for anything to change.
So, my advice is to really think about what you believe because that is likely to be your future. Question your beliefs. Ask yourself why is it that different countries have widely different life expectancies. Why is it that some countries have much lower risks of cancer than the UK has. Your beliefs will be based on what you learned as a child and what hear and see is normal around you. But what is normal here is not normal elsewhere. Understand this and you will be more open to questioning and changing your beliefs.
It's your life. You reap what you sow.
If you found this interesting and would like to know more, get a copy of 'The Mind' at the clinic and ask about the 2018 Seminars and Meditation classes.